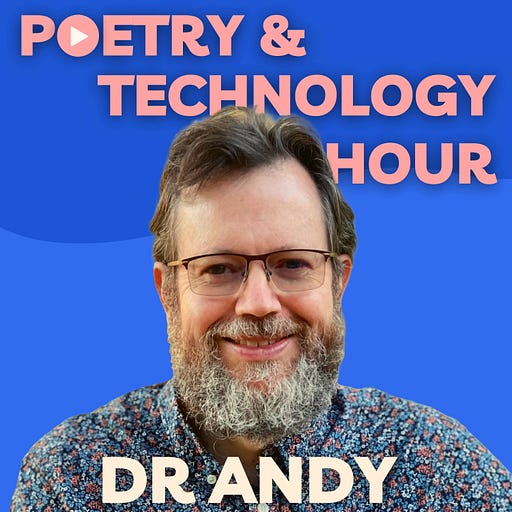 Sep 22, 2022 • 1HR 2M
Joe Mills, Linda Scheller, and Wendy Silk
On the 9/21/22 edition of Dr. Andy's Poetry and Technology Hour:
Dr. Andy and Dr. Joe Mills discuss staying curious, and the cost of all the "free" bonuses their daughters have enjoyed in college. Mills ushers in the new school year with a hopeful poetic vision of a college-aged Hamlet. Linda Scheller bares her teacher's heart in moving works from her new book, Wind and Children. Dr. Andy and Scheller consider a poet's flow of inspiration and vocabulary of symbols. Finally, Wendy Silk shares the hottest upcoming Davis music-enjoying opportunities, and then bursts into song (at Dr. Andy's request).
A faculty member at the University of North Carolina School of the Arts, JOSEPH MILLS holds the Susan Burress Wall Distinguished Professorship in the Humanities and was honored with a 2017 UNC Board of Governors Award for Excellence in Teaching. He has degrees in literature from the University of Chicago (B.A.), the University of New Mexico (M.A.), and the University of California-Davis (Ph.D). His work includes poetry, fiction, drama, and criticism. He has published seven volumes of poetry with Press 53: Bodies in Motion; Exit, pursued by a bear; This Miraculous Turning, Sending Christmas Cards to Huck and Hamlet; Love and Other Collisions; Angels, Thieves, and Winemakers, and Somewhere During the Spin Cycle.
With his wife, Danielle Tarmey, he researched and wrote two editions of A Guide to North Carolina's Wineries (John F. Blair, Publisher). He has also edited a collection of film criticism entitled A Century of the Marx Brothers (Cambridge Scholars Publishing). He won the 2017 Rose Post Creative Nonfiction Competition sponsored by the North Carolina Writers Network for his essay, "On Hearing My Daughter Trying to Sing Dixie." In 2015, he won the North Carolina Roanoke-Chowan Award for Poetry for This Miraculous Turning.
LINDA SCHELLER is a California Central Valley poet, playwright, book reviewer, and writing teacher. Her work has appeared in Notre Dame Review, Slipstream, Hawai'i Pacific Review, Poetry East, Seattle Review, Teach. Write., Connecticut River Review, Poem, Wisconsin Review, and More Than Soil, More Than Sky, among numerous other publications. 
A founding board member of Modesto-Stanislaus Poetry Center, Scheller facilitates writing workshops, book discussions, literary events, and community projects. As a programmer for KCBP radio, she co-hosts and produces "Arts of the San Joaquin Valley" and "Women of the Valley." In 2017, FutureCycle Press published her book of research-based, award-winning poetry, Fierce Light. Her second book of poetry, Wind and Children, was published in June 2022 by Main Street Rag.
WENDY SILK is a Professor Emerita and Distinguished ArtScientist from the Department of Land, Air, and Water Resources at UC Davis. Also a talented musician and talented cook, Silk is one of Dr. Andy's favorite colleagues.
Find out more about Dr. Andy's Poetry Night Reading Series in Davis, California by visiting http://www.poetryindavis.com. Invite your friends to sign up for the mailing list. To learn more about Dr. Andy's tiny media fiefdom, visit his weekly newsletter at https://andyjones.substack.com and follow him on Twitter at https://twitter.com/andyojones.